from:
The New Road to Serfdom
:
An illustrated guide to the coming real estate collapse
By Michael Hudson
posted on
iTulip
: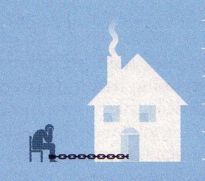 Free markets are based on choice. But more and more homeowners are discovering that what they got for their money is fewer and fewer choices. A real estate boom that began with the promise of "economic freedom" almost certainly will end with a growing number of workers locked in to a lifetime of debt service that absorbs every spare penny. Indeed, a study by The Conference Board found that the proportion of households with any discretionary income whatsoever had already declined between 1997 and 2002, from 53 percent to 52 percent. Rising interest rates, rising fuel costs, and declining wages will only tighten the squeeze on debtors.
But homeowners are not the only ones who will pay. The overall economy likely will shrink as well. That $200 billion that flowed into the "real" economy in 2004 is already spent, with no future capital gains in the works to fuel more such easy money. Rising debt-service payments will further divert income from new consumer spending. Taken together, these factors will further shrink the "real" economy, drive down those already declining real wages, and push our debt-ridden economy into Japan-style stagnation or worse. Then only the debt itself will remain, a bitter monument to our love of easy freedom.